Visa Information
Letter of Invitation
Participants may request invitation letter from the ISARC 2018 Registration Secretariat. The invitation is issued only when the registration payment is completed. The invitation is for the purpose of entry visa application and is not a commitment from the ISARC 2018 organizers to provide financial aid to any applicant or their accompanying persons. Expenses incurred are the personal responsibility of the applicant.
VISA Application to Berlin
EU nationals do not require a visa to enter the Germany. All other foreigners require a visa for a stay in Germany. For countries which the European Community has abolished the visa requirement, a visa is not required for a stay of up to 90 days in a timeframe of 180 days. You can find an overview on visa requirements here. Please refer to the Federal Foreign Office or to your own country for further information regarding to a VISA application to Germany.
General Information
About Germany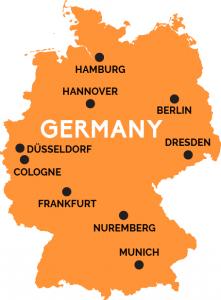 Germany is the largest country in Central Europe. Many airlines fly to Germany making it become a perfect travel destination. Germany is a quality convention destination, high-quality human resources, and successful development of the capital and technology-intensive industrial and service sectors. With natural sceneries, convenient transportation and delicious cuisine, Germany will guarantee an enjoyably journey.
Climate
Spring and summer are the best times of the year to visit Germany, as the weather is pleasant and warm. The average temperature is around 12 °C (54°F) to 22 °C (71°F). During summer temperatures can climb to above 30 °C (86°F). It generally feels warm during the day; wearing a short or long-sleeve shirt is enough. In the early morning and evening, a light cardigan might be needed. Carrying an umbrella is sometimes recommended.
Time Zone
Germany is one hour ahead of UTC (Universal Time, Co-ordinated).
Currency
The currency of Germany is the Euro (€). Foreign currencies can be exchanged at banks, airports, and hotels. Payment by major credit cards is accepted almost everywhere in Germany.
Electricity
Germany uses an electric current of 230 volts at 50 cycles.
Visitors with appliances of different voltages are urged to bring adapters with them.
Tipping & Tax
Sales tax is included in the listed price in Germany. Although tipping is not customary in Germany, a tip of 5-10% is general if you were satisfied with the service.
About Berlin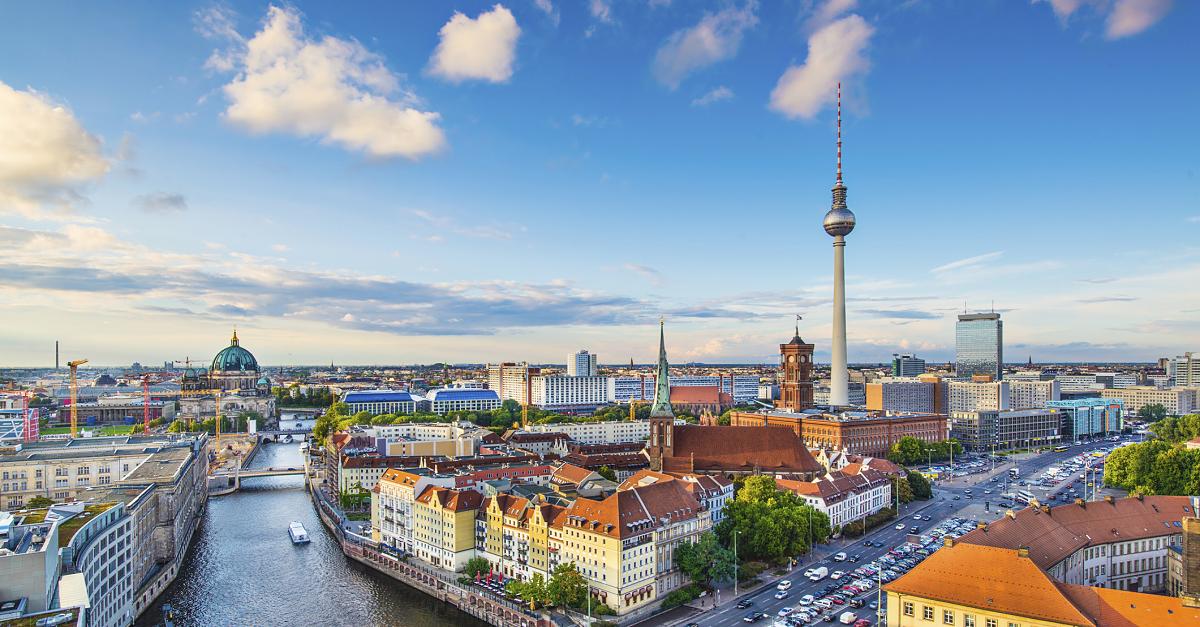 Berlin is the largest city situated in northeastern Germany. The river Spree leads several paths through the city. Althought badly damaged in the World War II and divided in the Cold War, Berlin has reconstructed itself greatly. Within the city centre, it is possible to to see representative buildings of many different historic epoches. Berlin is now a modern city with dozens of world-class performance venues, where you can enjoy world-class theater and concert events. The city also offers a wide range of other diversions, shopping malls, nightclubs, live-music bars, quality hotels, and exotic restaurants, street art, and numerous museums, palaces, and other sites of historic interest.
Weather
Berlin enjoys a Maritime temperate climate with generally no longer periods of cold or hot weather. During the summer (May – August) the weater is pleasantly warm with many hours of sunshine. Winters (December – March) can be bitterly cold and damp.
Gourmet Paradise
Berlin is a diner's paradise with international cuisines to local dishes, the menus will have you coming back for more. In the city itself, there are many popular international eateries featuring a wide range of flavors (e.g., German, Chinese, Japanese, Thai, Polish, Indian, Italian, French, Spanish, Greek, Turkish) almost all styles of the world are represented with good service and moderate prices. Example: While contested by other German cities on being the birthplace (i.e., Bochum), the Currrywurst is one of the meals you have to try while visiting Berlin.